We entered the Chesapeake Bay via the C & D Canal. We spent several weeks in the bay waiting out hurricane season before continuing south along the Atlantic Coast. The Chesapeake Bay has much to offer and we really enjoyed our time cruising here.
We had hoped our first stop would be Chesapeake City in the C & D canal. The anchorage was quite full when we arrived and the depths were a bit shallower than we hoped. We saw 8 ft at high tide and we draw 6 ft. With all that, we continued on and made it into the Sassafras River where we anchored for our first night in the Chesapeake.
Sassafras River
We anchored about 3 miles up the river. There are plenty of places to anchor in the Sassafras, several much closer to the bay. We wanted a very quiet, protected spot after having several rolly anchorages in the nights before our arrival into the Chesapeake.
The following day we headed further into the river to anchor near Fredericktown. There isn't much in this town, several marinas and restaurants. It was a challenge to find somewhere to land the dinghy. We made it work and met some family for lunch while we were in the area. We also had great luck fishing in the Sassafras! We caught two catfish in about 15 minutes using just some cheese we happened to have in the fridge! We fried them up and they were delicious!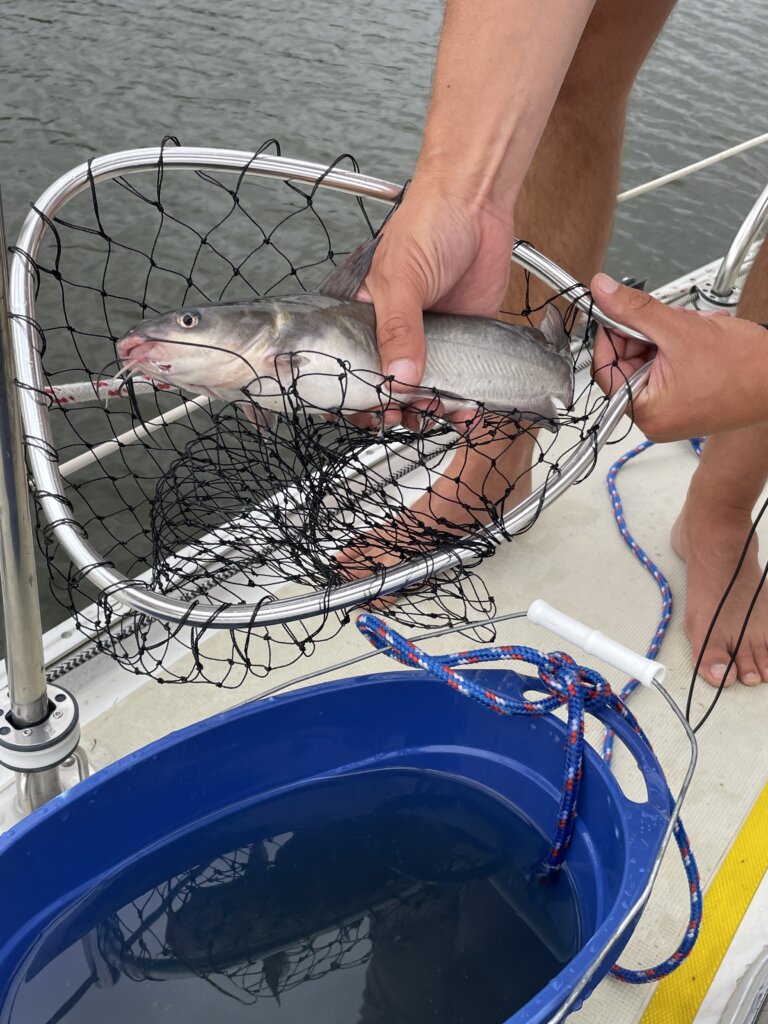 Middle River
The next stop for us was Middle River. We were waiting out some high winds and rain that was forecast. We chose this location in part because friends of ours enjoyed this anchorage when they sailed through the Chesapeake the year before and also it looked like there was a grocery store nearby. We actually ended up not getting off the boat at all while we were here. It is a very cute area with little houses along the coast and several marinas. There are a few restaurants/bars if you are looking to head to shore. Once the rain cleared we took off to explore further down the bay.
Baltimore
The anchorage here is in a perfect location! A dingy dock, grocery store, Ace Hardware, and West Marine are nearby. It is also within walking distance of the inner harbor and downtown. We really enjoyed our time in this city! It was probably the highlight of the Chesapeake for us.
From the anchorage, you can walk along the harbor, this walk will take you through the Fell's Point neighborhood, past Little Italy, and into the Inner Harbor where there is plenty to see and do!
There are several historic ships in the harbor. You can purchase tickets and walk aboard them all.
The USS Constellation- She is a sloop-of-war. It was the last sail-only warship designed and built by the United States Navy.
The USCGC Cutter 37- She resides on Pier 5 along with the Seven Foot Knoll Lighthouse in the Inner Harbor
The LV116 Chesapeake- She resides on Pier 3 and was considered to be among the most modern ships in use with the U.S. Lighthouse Service in its time.
The USS Torsk – This is the only submarine in the Baltimore collections. She was the only submarine out of its Tench Class fleet of ten to see service during World War II.
The Seven Foot Knoll Lighthouse was built in 1856. It is one of the oldest Chesapeake lighthouses still in existence. It was closed when we walked by but it was still cool to see. It is located in the inner harbor, you can't miss it if you are out walking around.
Once we were done walking around the harbor we needed some lunch! From Inner Harbor, it was a short walk to get to Lexington Market. It did seem like the market was not in the best part of town and there are many homeless people outside the market loitering. Once inside we felt totally fine and there were a lot of great food options to choose from! We would highly recommend eating here.
The following day we headed to Fort McHenry. The entrance fee is $15 for adults. You can walk around the grounds for free. We did enjoy walking into the fort and seeing the exhibits. The fort itself is kept up well and worth a visit.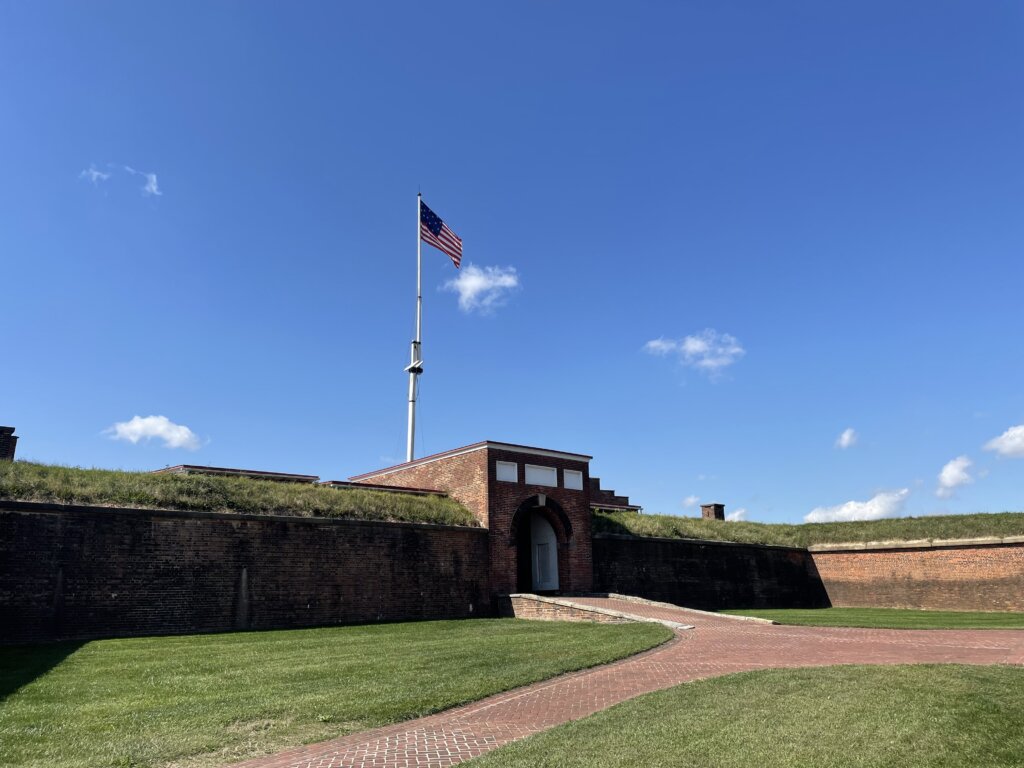 While we were in the city we made sure to take advantage of a great happy hour deal! Mamma's on the Half Shell is very close to the anchorage and during happy hour you can get $1 local oysters as well as drink deals. We loved the fresh, raw oysters here. They also had really good steamed mussels!
Most of what we saw you can walk to from the anchorage. The fort is a bit farther away so we hopped on the Charm City Circulator from the inner harbor. This free bus system will take you to many places within the city. We used the Banner Route bus to get us to and from the fort. We found the bus to be clean, on time, and a really good way to get around.
Annapolis
No sailing trip to the Chesapeake would be complete without a visit to Annapolis. We were heading through in the fall so we timed it to be there during the boat show. We weren't sure how it would be finding a spot to anchor but it actually worked out well for us. We found plenty of space in the Annapolis Bay anchorage when we arrived on Wednesday. We ended up not liking how rolly it was in the bay so we headed up to Weems Creek which is about 2 miles from town. We found plenty of space in this quiet anchorage. From Weems, you can pull your dingy ashore at the Tucker Street boat launch. The city dinghy dock in town was really packed but still, we were able to tie up there as well during the boat show.
While in Annapolis every cruiser should stop at Bacon Sails and Marine Supply.. They have everything you could need! There are consignment items for cheap as well as new items. Everyone who worked there was great and we ended up staying and chatting for a while as we shopped! During the boat show they have great sales as well.
Wye Island
After several days in Annapolis for the boat show, We found a nice, quiet anchorage near Wye Island. We had hoped the hiking trails would be more accessible. We chose the Wye East G3 anchorage. It looked to us that from one bay over the trail came pretty close to shore. We headed over in the dinghy but found it difficult to find a place to land the dinghy on shore. Once we found a spot we ended up having to walk through pretty thick, prickly bushes to find the trail. We turned back after a bit and didn't end up hiking the established trails. The island is still very pretty and we did enjoy the quiet anchorage.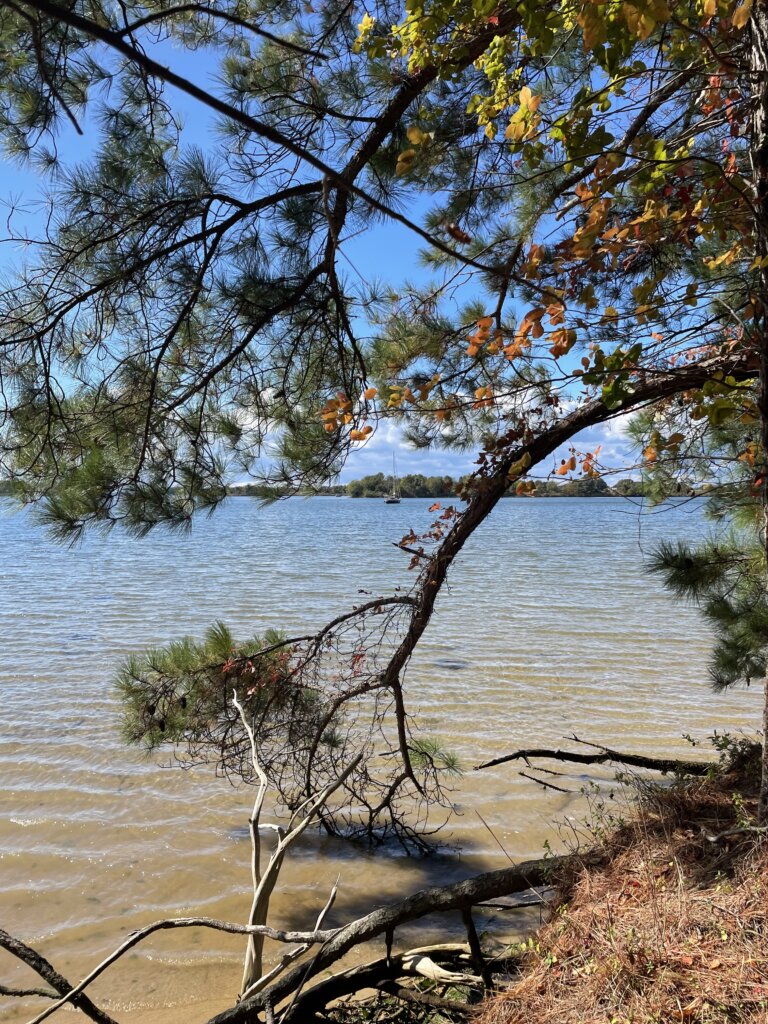 St Michaels
From Wye Island, we moved to the nearby town of St. Michaels. We had heard this was a very cute town and it did live up to the hype! There is a dingy dock in town and the town itself is very quaint. There are plenty of shops, restaurants, cafes, and ice cream places in town. We enjoyed a hot chocolate and sat outside to enjoy our afternoon after wandering through town. There is also a large marine museum here with plenty of ships you can see from the water.
Solomons Island
We stayed here for a few days, waiting out some high winds. There are plenty of places to tuck in and anchor. We were also very happy to see a free dinghy dock with a pump-out station, meaning free water! We filled several jerry cans while we were here. On the island, there are several restaurants and shops as well as a nice boardwalk along the water. We absolutely loved Cryptic Pizza. You order at the window and sit outside at picnic tables on the lawn, facing the waterfront. The pizza was amazing! Some of the best we have had! A short walk from the island is a West Marine and 7-11 convenience store. No grocery store is walkable. The was a large liquor and wine store right next to West Marine. This West Marine was much better stocked than what we experienced in Baltimore.
Deltaville
By this time, it was getting pretty cold and we were ready to head south. We jumped down to Deltaville. The channel to enter here is very narrow and it winds close to shore. It is well-marked and we made it in without any issues. We entered in daylight and in calm conditions. We had read on No Foreign Land that the Jackson Creek Marina has coin-operated laundry available for boats at the marina and anchored. We also read there was a free dinghy dock with water available. When we got to the marina we didn't find an actual dinghy dock but there were plenty of empty docks to leave the dinghy and there was water there. We passed a sign saying the docks were for marina guests only but nobody said anything to us. The laundry also says it is for marina guests only or you can pay a fee to use the marina facilities for a day. $11 a person gets you access to laundry, bathrooms, showers, and their pool. We opted not to pay and found that all the laundry machines were in use so we headed back to the boat.
There isn't much of a town here to walk around but the anchorage is well-protected and calm. After a day of relaxing and doing some projects, we headed on to our last stop in the Chesapeake.
Hampton
Our last stop was Hampton, at the very bottom of the bay, across from Norfolk. From the anchorage here there is a free dinghy dock and a grocery store within walking distance. We re-provisioned and relaxed for the afternoon before continuing on into the ICW the following day.
Final Thoughts on the Chesapeake
The Chesapeake Bay is a nice place to cruise. There are a ton of anchorages that are well-protected, all over the place so you are never too far from safety. We did find that a lot of the anchorages are surrounded by houses so if you do want a secluded spot you need to spend a little extra time planning to make sure you find the right spot.
One thing we weren't prepared for is how shallow and shoaly the bay is. There are also a lot of exclusion zones/prohibited zones on the chart you need to watch for and avoid. The crab pots are everywhere! We kept seeing buoys that said "crab line" but it appears people put crab pots all over, on either side of the line. This isn't a place where you can just set your sails and go without constant attention to the charts.
We spent most of our time in Baltimore and Annapolis, waiting to meet family for the boat show. If we had more time we would have planned to find more remote, secluded anchorages. There were also plenty more cute, little towns that we didn't have time to visit. Maybe someday we will be back, you never know!